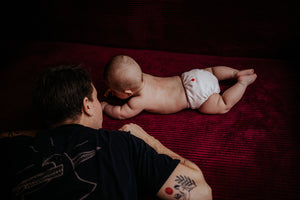 Tiny effort, Massive reward.
Why washable diapers?
Planet Friendly
Organic and durable materials
Less Waste
Reduces disposable waste by 8%
economical choice
benefits all
A faster path to potty training
Why Billie Wonder?
Read our story and get transparent information about the product, materials and our unique benefits.
LEARN MORE
→
How does it work?
The Change Flow
Our step-by-step guide will walk you through "The Change Flow" of washable diapers, and provide an overview of the entire washable experience.
How to wash?
Laundry Routine
So simple! Pre-wash the diapers for 15 minutes in cold cycle, then add the other laundry and do your regular washing routine.

Get the basics
Choose The Full Kit to embark on the washable experience or test the waters with The Trial Kit.
CTA to diapers shop
add the essentials
Further ease the Change Flow with these accessories: The Hemp Oil, The Wipes and more.
CTA to essentials shop page
enjoy the nice-to-haves
Take The Bag and The Change Mat on the go or use The Swim Diaper in the pool - we move with you.
CTA to nice to haves shop
which size should I choose?
Diaper Sizing
You'll need The Wrap, The Nighttime, and The Inserts to put together the diaper. Each available in two sizes - Size 1 (Newborn to 8 kg) and Size 2 (8 kg to 16 kg).
As every child is unique, you can adjust the fit with front snaps and customise absorption by layering inserts as needed.