How does it work?
For the record, it's easy and clean. No touching solids. No scraping solids into toilets. No walking around with solids in your bag. Just a couple new terms and accessories, some laundry instructions, and you're off.
What do I need?
Same list as disposable diaper routines. Bin, bin liner, diapers, diaper bag, and wipes. Or opt for a kit, which will have everything you need. 
Want to reduce more waste and save more money? Switch to washable wipes.

Learn more →
We strive to make easy to use products using the kindest materials and fairest sources available.
Every baby is born a changemaker. They flip schedules, turn lifestyles upside down, give a whole new meaning to living and loving and instantly make this world a brighter place. No matter how bumpy their starts or how shaky their rhythms, they change us just by being them. It's up to us to change their world so they can keep changing ours for the better. The future is theirs. The choice is ours, every day.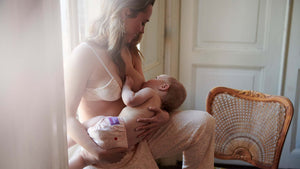 The MAMA'EN Capsule Collection
Friendly
Better for baby and the planet
Less
Reduces disposable waste by 8%
economical
Less expensive than disposables
Fast
A faster path to potty training