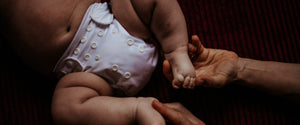 Step by step guide
In these step by step guides we will walk you through "the workflow" of washable diapers, "the size, use & fitting" and we end with "the washable wipes". These step-by-step guides are meant to provide an overview of the entire washable process - see "Workflow". As well as tips on how to use and fit our diapers - "Size, Use, and Fit". And lastly, a briefing on washable wipes - what you need and how to do it. Let's go!
THE WORKFLOW
1. Get inventory ready
Diapers, liners, and a bin with a laundry net.  Check.
If using washable wipes - wipes, spray bottle, hemp oil and water. Check. Check.
2. Choose the right diaper
Day - The Day Inserts (left) snapped into The Wrap (middle). 
Night - The Night Insert (right) with The Wrap. 
To increase absorbency, add extra Day inserts.  
See "Size, Use & Fitting" below for more info.
3. Use a liner
The Liners catch solids and make cleanup a cinch. Optional if still only breastfeeding. 
See "Size, use & fitting" below for more info.
4. Put the diaper on
Snap diaper closed, making sure it's comfortable and not too tight. Tip: Your index finger should fit comfortably between diaper and baby. 
See "Size, use & fitting" for more info.
5. TIME FOR CHANGING
During the day, we recommend changing every 2-4 hours.  Prepare your next diaper and have wipes at hand.
6. PLACE USED DIAPER IN BIN
Remove liner and any solids from the diaper, then place the used diaper in the bin.  No need to take the insert out of the wrap, but it is recommended. Taking it out increases the life of both the insert and wrap.
7. Remove laundry net from bin
Open Laundry Net, with used diapers inside, and place it in the washing machine.  Diapers will come out of the net during the wash cycle.
8. Pre-wash, then wash full cycle
Pre-wash short cold cycle (15-30 min).  Then full wash, non-eco, cycle 2-4 hrs / 40°- 60° in non-eco detergent.
9. dry
Line dry water-resistant fabrics (The Wrap, The Wet & Dry Bag, and The Bag). Avoid direct sun, heaters or radiators. Absorbent fabrics (The Day Inserts, The Night Inserts & The Wipes), line dry or tumble dry low.
Repeat: Ready for the next round!
SIZE, USE & FITTING
CHOOSE YOUR DIAPER
For daytime, use The Day Inserts (right) snapped into The Wrap (middle).  At night, we recommend The Night Insert (left) with The Wrap or The Woolpants (see shop).  Need more absorbency?  Add Day Inserts to the Night Insert to layer.
SIZE YOUR DIAPER
We offer two sizes, 1 and 2.  Size 1 is approx. 0 - 8kg.  Size 2 is approx 8 - 16kg.  Adjust final fit using the front snaps.
PUT YOUR DIAPER ON
With size checked, The Inserts snapped in, or The Night Insert ready, place the diaper on the baby.  Begin by closing the two rows of snaps at the top.  Put your index finger between baby and diaper to ensure a comfortable fit.
Hide excess fabric
Tuck in any excess fabric between the snaps.
double check
To avoid leaks, make sure no inserts or liners are sticking out of the diaper.  Also, make sure you can put a finger between baby and diaper to ensure fit.  A sock-like imprint on skin is ok, anything else is too tight.
Adjust groin
Tuck diaper at groin to ensure comfort and prevent welts.
Fasten all velcro
To avoid damage to other items during storage or a wash, be sure to close all velcro fasteners (e.g. The Night Insert).
Dry
Line dry water resistant fabrics in shade and avoid direct heat from heaters or radiators.  Line dry or tumble dry absorbent fabrics, taking note that tumble drying may reduce the life of fabric.
THE WIPES
ESSENTIALS
The Wipes, The Spraybottle, The Hemp Oil, and some water.  This powerful combo means you're reducing waste and nourishing skin as you clean.
MIX
Mix approx 10ml of The Hemp Oil with 100ml of water.  When using our spray bottle, this is 2 to 3 pipettes and fill with water.
SHAKE
To mix the oil and water well, shake the spray bottle with every use.
SPRAY
Moisten wipe by spraying oil/water mix onto wipe.  For large solid clean up jobs, pre-clean baby with toilet paper and finish washable wipes.
used wipes in bin
Used wipes follow the same workflow as diapers.  Place in bin when used and wash along with diapers.